B-A-K: Belgian Adoptees from Korea
B.A.K. est une association sans but lucratif et qui a essentiellement pour objet de rassembler les adoptés d'origine coréenne de Belgique.
Pour ce faire, l'Association s'attachera, sans discrimination idéologique, philosophique, religieuse ou politique, à promouvoir et à développer les échanges socio-culturels entre la Corée et les adoptés d'origine coréenne en Belgique et dans le monde.
Organiser des événements éducatifs, culturels et sociaux ou des activités pour favoriser l'amitié, les échanges et le soutien pour les différents besoins et intérêts de notre communauté.
Fournir des ressources d'intérêt pour les adultes adoptés coréens et leurs familles en Belgique.
B.A.K. is een vereniging, zonder winstoogmerk, heeft als doel de Koreaans geadopteerden in België samen te brengen, om sociaal-culturele uitwisselingen tussen Korea en Koreaans geadopteerden in België en de wereld te bevorderen en te ontwikkelen.
Om dit te kunnen verwezenlijken, zal de organisatie zich toewijden, zonder ideologische, filosofische, religieuze of politische discriminatie, om socio-culturele uitwisselingen te promoten en te ontwikkelen tussen Korea en de koreaans geadopteerden in België en wereldwijd.
Organiseren van educatieve, culturele en sociale evenementen of activiteiten om vriendschap, uitwisseling en steun voor de verschillende behoeftes en belangen in onze gemeenschap.
Een bron van interesse verschaffen voor de volwassen koreaans geadopteerden en hun families in België.
info@b-a-k.org
https://www.facebook.com/groups/BelgianAdopteesKorea
---
---
B.A.K. GALA 2017
---
Venue:
Feestzaal Eldorado
Kerkstraat 251
1851 HUMBEEK
Time of arrival: 18.00h
Seated gala dinner including:
Appetizers
Starter
Main course by San Degeimbre (L'air du temps ** - SAN)
Dessert
During the seated dinner there will be Taekwondo and classical music performances.
Big prize raffle (lottery). Tickets: 5 €/each
The first drink is offered by B.A.K., other drinks are not included in the menu and must be paid for separately at the bar of the venue. (première boisson offerte par B.A.K., autres boissons non-incluses, à payer sur place/eerste glas aangeboden door B.A.K, andere drankjes niet inbegrepen, te betalen ter plaatse)
Price for the menu: 55,00 euro/person
Price for children aged 0 to 12: 35,00 euro/person (menu: chicken/applesauce/croquettes + chocolate mousse)
Dress code: Tenue de ville or hanbok
If you have questions regarding this event you can contact us by mail: info@b-a-k.org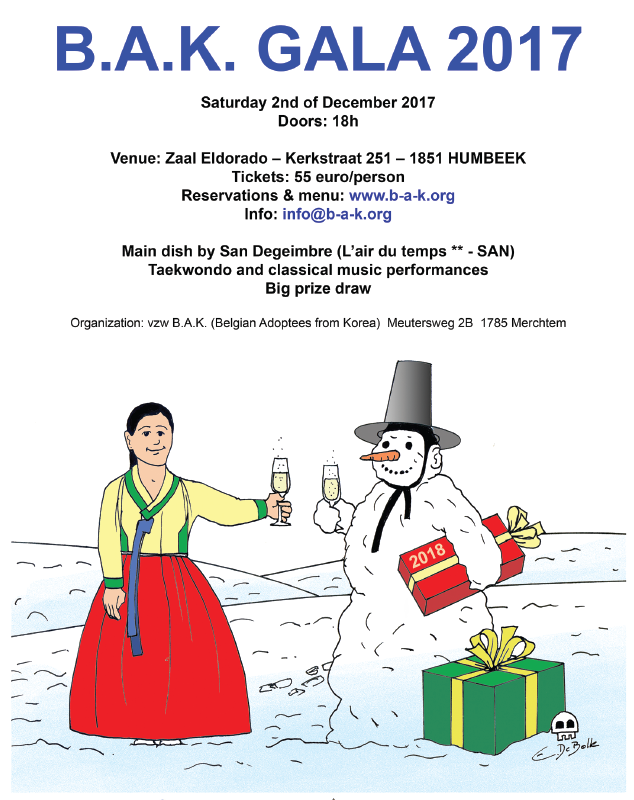 ---
RSS feed